DubMastor - Segurando as Pontas - 2008/09.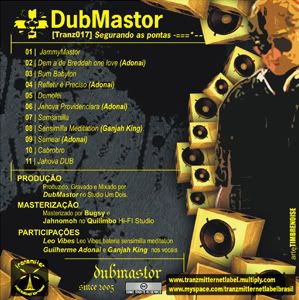 Release Info:
Artist: Dubmastor
Release Title: Segurando As Pontas
Cat#: Tranz017
Release Date: 25 November, 2008
Format: Digital/ Mp3/ 320kbps/ 44.100
Genre: Electronic
Subgenre: Dub / Reggae
Total Time: 49
Size: 118 MB
Produção local de alta estima, Parcero Paulo DubMastor - Selector, produtor, trombonistas, e um dos fundadores da primeira Soundsystem da região, que se tem noticia - O CidadeVerde SoundSystem, Além de promover eventos com nomes de destaque na região.
Produzido em Maringa no estudio...UmDois, o cd-Segurando as Pontas.
Dubwise de qualidade e peso, puxado e coerente, com a proposta dele, de ir mais pelo caminho das levadas steppas, tem os laços com o passado, mas os bons, criatividade e liberdade das produções caseiras, aliada a busca de excelencia profissional... é o futuro da produção do reggae digital...que ja acontece.
Além disso mostra que o reggae no Brasil segue em passo forte e independete do mercado e corporações.
Hello, homemade studio UmDois, downhere in Maringa, parana.
Local production of high esteem, PARCERO DubMastor Paulo - selector, producer, trombone, and a founder of the first Soundsystem the region, which has been reported - The

CidadeVerde Soundsystem

, In addition to promoting events with names of prominence in the reeggae

Produced in Maringa ... UmDois the studio, the CD-Segurando as Pontas (Holding the tips).

Dubwise quality and weight, pulled and consistent with the proposal him, to go more the route taken by uk-Steppa, has links with the past, but the good, creativity and freedom of home production, combined with search of professional excellence .. . is the future of the production of digital reggae... that happens today.

In addition to the reggae shows in Brazil following step in strong and irrespective of the market and corporations.





01. Jammy Mastor
02. Dem A De Breddah One Love (Adonai)
03. Burn Babylon
04. Refletir é Preciso (Adonai)
05. Demolei
06. Jahova Providenciara (Adonai)
07. Semsimilla
08. Semsimilla Mediation (Ganjah King)
09. Semeai (Adonai)
10. Cabrobro
11. Jahova DUB.
SomDuBom 1
SomDuBom 2